Yac3De 2.0
Direct3D and OpenGL2 / OpenGL-ES2 - automatic shader translation of HLSL to GLSL
Multiple platforms: Ms Windows, Linux, Android (NDK), Apple iOS (Marmelade).
Fast Global Illumination, with moving lights.
Virtual Reality with rendering of images for each eye, rotation driven by gyroscope and work-in-progress gyroscope + accelerometer sensor fusion.
All the low level code is a small set of low level files, making it quite easy to port the engine to another platform with similar render features.
Memory allocators are completely replaceable by client application.
Block architecture: easy to use either the low level rendering features (for example for specific cases requiring special geometries sorting/batching) or/and higher level tools.
---
VR on Android smartphone

Yac3De 2.0 - Fast Global Illumination

My faked Global Illumination requires 4 seconds of precomputation for the two above models, then it can be lighted with moving lights and dynamic Global Illumination.
TODO: use occlusion from shadows when computing light bounces.

---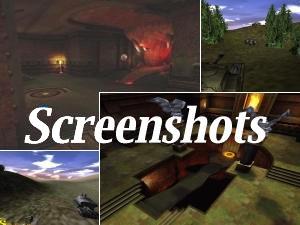 Features of Yac3De 1.0, my previous 3d engine
My engine is quite generic, it can display either inside scene, or outside scene (terrains), or both at the same time.


Hardware-accelerated rendering with OpenGL
Materials with pixel shaders and/or multi-texturing
Dynamic per pixel lighting with Normal Mapping in one pass even on cards with only 2 texture units.
Realtime soft shadows
Shadow casting by Shadow Buffer and Shadow Volumes
Visibility determination using either BSP tree with PVS, Portals, Octree
Gamma correction, fog, Lightmaps and other classic stuff
Terrain rendering
Curves with Bezier Patches
LOD - Levels Of Detail
Loading of scenes from Collada, 3d Studio scenes (*.3ds - including hierarchies and animations), Quake I, Quake III and Doom3 models and maps, Return to Castle Wolfenstein maps
Highly portable thanks to the glut or SDL library
Can be use with Fltk to create 3D tools (modelers, editors...)
---
Used libraries
OpenGL
Glew
Cg
PhysFS
SDL (SDL_mixer for the sound)
---
A small demo please ?
Removed as it was far too old.

---